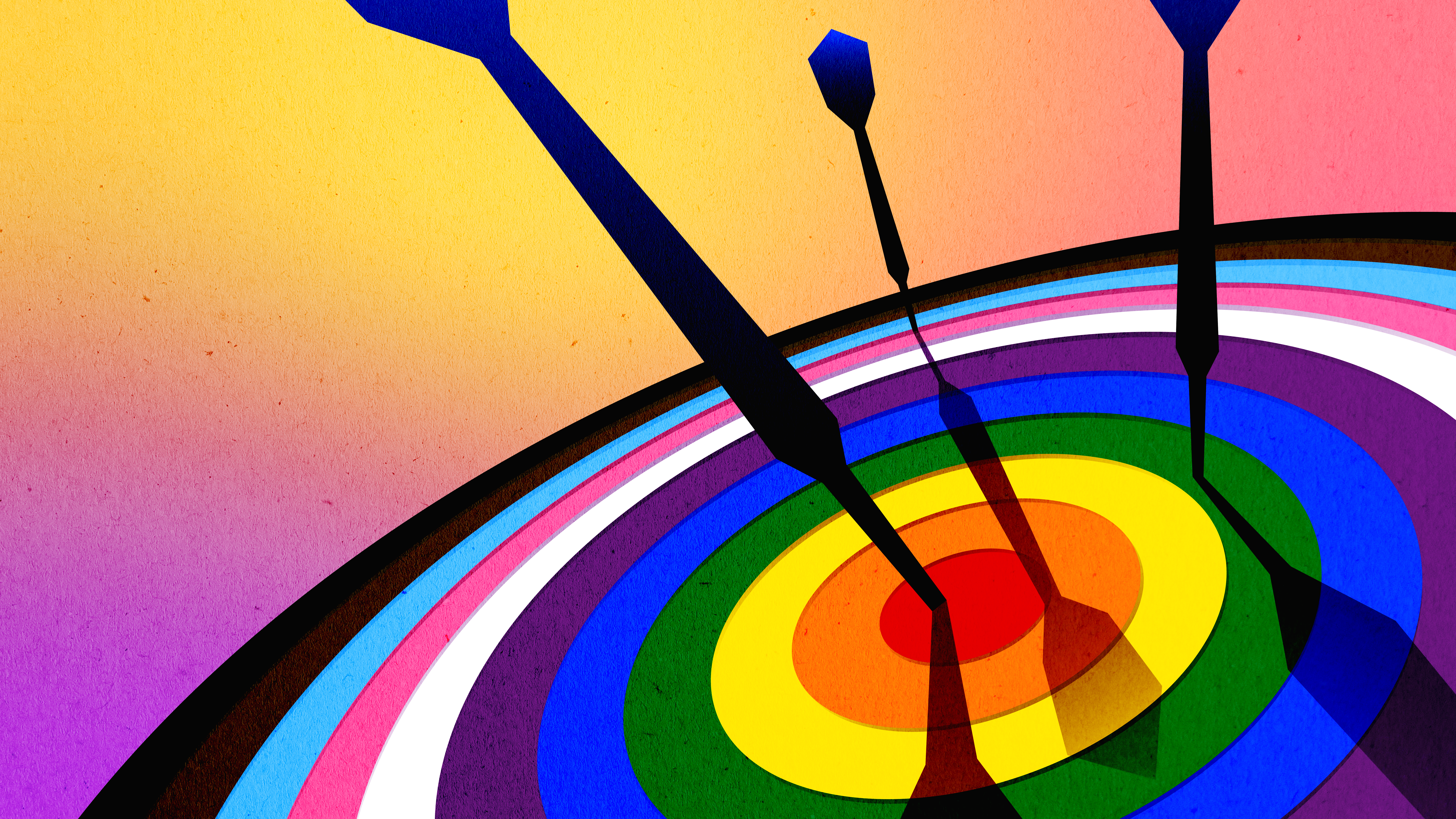 The choice between pride and profit
I'll admit that, in Pride months-past, I have accused brands of rainbow-washing and been vocal in my disdain for corporations co-opting a social movement for commercial gain.
Yet, this year – as bans on gender-affirming care and drag shows have become a focus for Republican lawmakers in the US, and anti-trans sentiment grows in the UK's media – such accusations from the LGBTQ+ community pale in comparison to boycotts (and worse) from the far-right.
Share prices have dropped, rainbows removed, flags set on fire, people have been threatened – and brands are caught in a culture war, with execs facing a choice between their pride and their profit.
Target targeted
"The goal is to make "pride" toxic for brands. If they decide to shove this garbage in our face, they should know that they'll pay a price. It won't be worth whatever they think they'll gain. […]"
This is from Matt Walsh, conservative political commentator, and self-proclaimed "Theocratic fascist". This tweet (which is mild compared to what else is out there) goes on to celebrate the targeting of both Bud Light and Target, two brands that have been the focus of and succumbed to extreme conservative ire.
In the case of Bud Light, parent company Anheuser-Busch distanced itself from transgender influencer Dylan Mulvaney, after they were given a personalised can of beer to promote on social media. While retailer Target moved its Pride items to be less prominent in some stores, removing them altogether in others, after what it described as "volatile circumstances".
Kelley Robinson, president of the Human Rights Campaign, one of the largest LGBTQ+ advocacy groups in the US said "Target should put the products back on the shelves and ensure their Pride displays are visible on the floors, not pushed into the proverbial closet. That's what the bullies want."
These two examples sadly highlight a long-held suspicion that corporate Pride branding has never been much more than a rainbow-coloured logo for June. Sadder still, they're a sign that homophobic and transphobic voices are becoming increasingly emboldened. That violence and intimidation can in fact impede the march of progress toward LGBTQ+ equality.
In The North Face of adversity
Yet, there is hope. What would Pride be without it?
The North Face, after their Pride campaign featuring drag queen Pattie Gonia launched, faced similar backlash and calls for boycotts. However, The North Face is choosing to stand firm, stating:
"Creating community and belonging in the outdoors is a core part of our values and is needed now more than ever. We stand with those who support our vision for a more inclusive outdoor industry."
Disney has stepped up too. The gigantic entertainment brand has faced controversy over the years and certainly had its inclusivity and political allegiances questioned, but last year faced its own share of anti-LGBTQ+ backlash after eventually speaking out against Florida's "Don't say gay" bill. I, for one, am pleased to see the Orlando resort host its first official Pride celebration, as well as this year's Out & Equal workplace summit in September.
Let these brands be a signal to others: you can and should side with the LGBTQ+ community and its allies, rather than the vocal, violent extremists who want to keep queer consumers and employees invisible.
Take pride in your stance
This Pride the LGBTQ+ community needs and deserves support and protection more than ever. Following recent events, it feels like brands are at a tipping point. I write this as thousands of workers from 150 Starbucks stores take part in a nationwide strike after claims the company has banned Pride decorations. I'm frankly nostalgic for the lighthearted, not-newsworthy corporate Pride that I used to ridicule.
Perhaps we'll see the rollout of marketing and merch reduced or restricted to more progressive geographies (even more so). Or perhaps now, companies wanting to benefit from marketing to marginalised groups, will only do so because they are prepared to back those decisions.
Between now and Pride 2024, I'd encourage boards and business owners to stop thinking of Pride as a month in the marketing calendar and start thinking about true advocacy. They must internalise any outward demonstration of support into a real value for their brand, creating real policies that will benefit LGBTQ+ employees and consumers alike. I did say pride was hard-earned.
Ultimately, they need to be honest with themselves and consumers that if they aren't able to do that, then maybe Pride isn't something for them to be championing at all.
Now is the chance to achieve more authenticity with corporate Pride. Genuine commitment to the community, meaningful action, dedication to long-term support. Now that would be something to be proud of.